Gestern ist mein erstes Secret Pal-Paket angekommen, ein schöner knallgelber Karton der italienischen Post hat im Treppenhaus auf mich gewartet. Und drin waren lauter tolle Sachen, vor allem Wolle Wolle Wolle!
Yesterday arrived my first secret pal parcel, a beautiful yellow box from the Italian post was waiting for me on the stairs. And in the box were a lot of beautiful things especially yarn yarn yarn!
Vier Knäuel von Madil Loden, eine Mischung aus Schurwolle, Alpaka und Viskose, fühlt sich traumhaft an und die Farben sind klasse!
My pal wrote me such a nice letter and described the yarn exactly: four balls of Madil Loden, a mix of wool, alpaca and viscose. The yarn is soft and I really love the colors!
 Zwei Knäuel reine Wolle in einem schönen Farbverlauf.
Two balls of pure wool with a great color run and the colors are beautiful!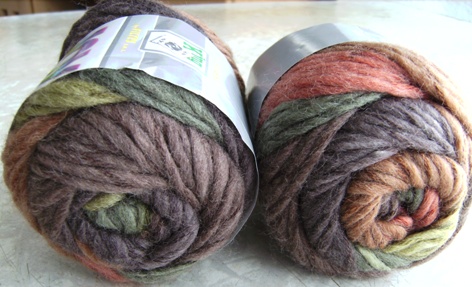 Dann habe ich neben einem sehr lieben Brief noch eine Tafel sizilianische Schokolade bekommen und einen Peelinghandschuh, den ich heute noch ausprobieren werde. Meine liebes Secret Pal: tausend Dank für das schöne und durchdachte Paket!
 There was a "non-knitting" part in the parcel: Sicilian chocolate and a peeling mitten which I'll try out today. My dear secret pal, thank you so much for the great and well thought parcel! Happy Easter to you!