Secret Pal 10 ist nun vorbei und es scheint, daß gestern die letzten Päckchen zeitgleich angekommen sind. Da Emilie hier kommentiert hat, gehe ich stark davon aus, daß sie mein Päckchen auch endlich bekommen hat (es gab da einen Streik bei der englischen Post – solange hat noch kein Päckchen auf die Insel gebraucht). Es hat viel Spaß gemacht, Emilie zu beschenken, sie hatte einen ausführlichen Fragebogen und hat es damit mir leicht gemacht, die passenden Dinge zu finden. Sie wohnt in London und so hoffe ich sehr, sie im Oktober persönlich kennenzulernen!
Mein toller Paketbote überreichte mir gestern strahlend ein weiteres knallgelbes Paket aus Italien. Ich habe wirklich noch nie einen so netten und begeisterungsfähigen Postler gehabt. Ich glaube fast, wenn ich ihn eingeladen hätte, beim Auspacken dabei zu sein, er wäre in Versuchung geraten. Auch war er ein bißchen traurig, als ich ihm sagte, daß das vorerst das letzte internationale Paket war. Aber: es geht ja vielleicht weiter im Herbst mit SP11.
Ich habe das wundervolle Paket von Silvia dann doch alleine ausgepackt und war wieder überwältigt:
SP10 is over and it seems that yesterday the last parcels arrived at the same time. I guess Emilie got her last parcel finally because she left comments here. It was a lot of fun to spoil Emily. She had a good and detailed questionnary and that makes it easy to find the right things (I hope so). She's living in London and I hope so that we can meet when I'm there in October.
Yesterday my great postie gave me with a beaming smile my last yellow parcel from Italy. I never had such a nice and enthusiastic postie. He was a little bit sad when I told him that this was the last international parcel for the next weeks. But perhaps I'll join SP11. And this is the wonderful parcel from my wonderful pal Silvia: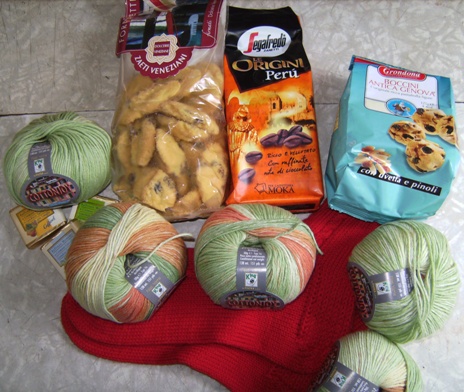 Schöne Socken für mich! Knallrot und mit einem hübschen Zopfmuster. Ich freue mich immer sehr über selbstgestrickte Socken (warum kriege ich denn so selten welche? 😉 ). Wundervoller Kaffee für perfekten Espresso (und ja: auch als Nicht-Italiener besitze ich natürlich eine Caffettiera) und dazu passend zwei Tüten mit venezianischem und genovesischem Gebäck. Wirklich traumhafte Schokolade (schon zur Hälfte genossen) und fünf Knäuel wunderschöner Baumwolle mit einem tollen Grün-Orange-Farbverlauf. Ich habe schon eine Idee, was ich daraus machen kann.
Amazing red socks with a nice cable pattern. I love to get socks for myself! (Unfortunately I get hand knitted socks very rarely – why? 😉 ) Wonderful Italian coffee for a perfect espresso (and of course I own a caffettiera

) and delicious cookies. And -aaahhh!- wonderful chocolate (I already ate the half of them). And you can see 5 balls of wonderful cotton with a great color run in green and orange. I already have a little idea what to make with them.
Und die Socken passen perfekt. Dank der wenig sommerlichen Temperaturen trage ich sie auch schon. Liebe Silvia, vielen Dank für diese schöne Runde SP, du hast mir tolle Sachen geschickt und mir viel Freude bereitet!
The socks fit perfectly! Because it is cold here (hello summer?!) I'm already wearing them. Dear Silvia, thank you so much for being such a nice and generous pal. All your parcels were great and you made me happy!