Die Nikolaus-/Weihnachtsproduktion läuft auf vollen Touren, aber ein paar Dinge kann ich zeigen. Zunächst das Abschlußgeschenk für Secret Pal; es ist auf dem Weg nach Finnland und so denke ich, es wird mit einem Foto nicht zuviel verraten. Ein Schal aus Lana Grossa Furetto in -wie ich finde- sensationellen Farben. Ich habe einfach 50 Maschen angeschlagen, Rippenmuster in 2R2L solange bis die vier Knäuel aufgebraucht waren = eine Gesamtlänge von 1,70m.
A lot of Nikolaus-/Christmas-knitting but I can show a few things. First the final gift for Secret Pal. It's on the way to Finland and I think it's okay to show a picture. A scarf knitted with Lana Grossa Furetto, I really love the colors (hope my pal will love them too). I casted on 50 stitches, k2p2-ribbing. I used 4 balls = 66.93''.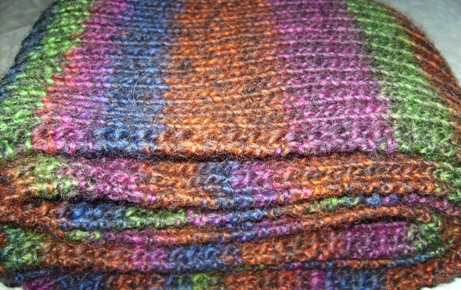 Noch mal ein Schal aus Furetto, dieses Mal in Grautönen für einen guten Freund, das gleiche Prinzip, zur Hälfte fertig.
The same in gray, the half of it is done. For a good friend.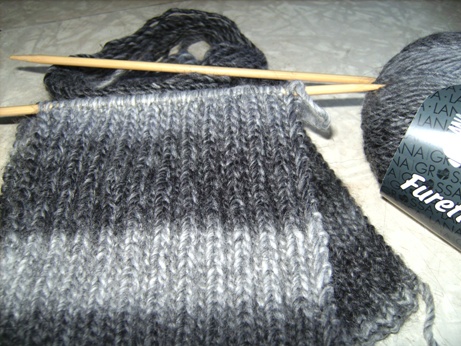 Gestern Abend hat's mich gepackt und ich habe die Mütze aus der aktuellen Rebecca (Modell 10) gestrickt. Ich habe dafür die Wolle benutzt, die mir Katja im zweiten Paket geschickt hat, gestrickt mit NS 8. Ich denke, es ist die wärmste Mütze aller Zeiten und durch ihre Größe auch geeignet, sich völlig inkognito auf den Straßen zu bewegen 😉
Yesterday I've knitted a hat from Rebecca Magazine 35 (model 10). I've used the wonderful yarn Katja sent me in the second sp-parcel. Knitted with needle size 8mm it is perhaps the warmest hat ever and because of its size a perfect hat for walking through the streets without revealing one's true identity 😉